WEBTALK REVIEW: HOW TO MAKE MONEY WITH THIS SITE
Have you heard of pay per lead sites?
Are you aware you can get paid for using social media sites?
Are you here to discover, "How does WebTalk work?"
This post reviews a new website called WebTalk where you can be paid affiliate earnings in the form from the website revenue shares.
WebTalk is a pay per lead social media site.
You get paid per lead for each lead you provide. You even get paid for the leads your leads provide.
Not interested in money? No problem! You can also benefit from this platform because WebTalk can be used for blog promotion and networking. Get in on the first floor and discover the perks of using this new pay per lead affiliate program. By the time you're done reading this review, you'll know how to use WebTalk for monetization, blog promotion, and networking.
Are you ready to learn about "WEBTALK?"
Let's dive in…
What is WebTalk?
WebTalk is the first social ecommerce community. The site started in 2011 but generated popularity in 2015 when the developers revamped the focus to business. WebTalk is a free to join innovative social and business network like Facebook or Linkedin as well as a shopping community. You combine your personal and professional relationships at WebTalk. You use the site as an ecommerce community as well.
When you think of WebTalk, think of 4 C's– Content, Communication, Commerce, and Collaboration. At WebTalk, you can build your brand and get testimonials like you do on LinkedIn.
Look: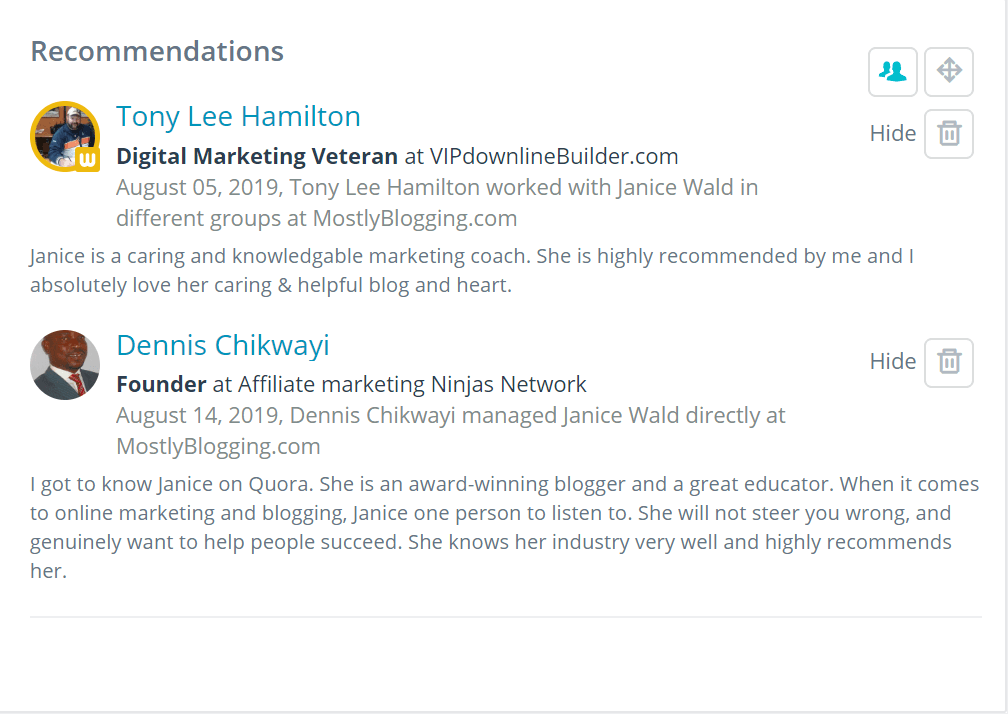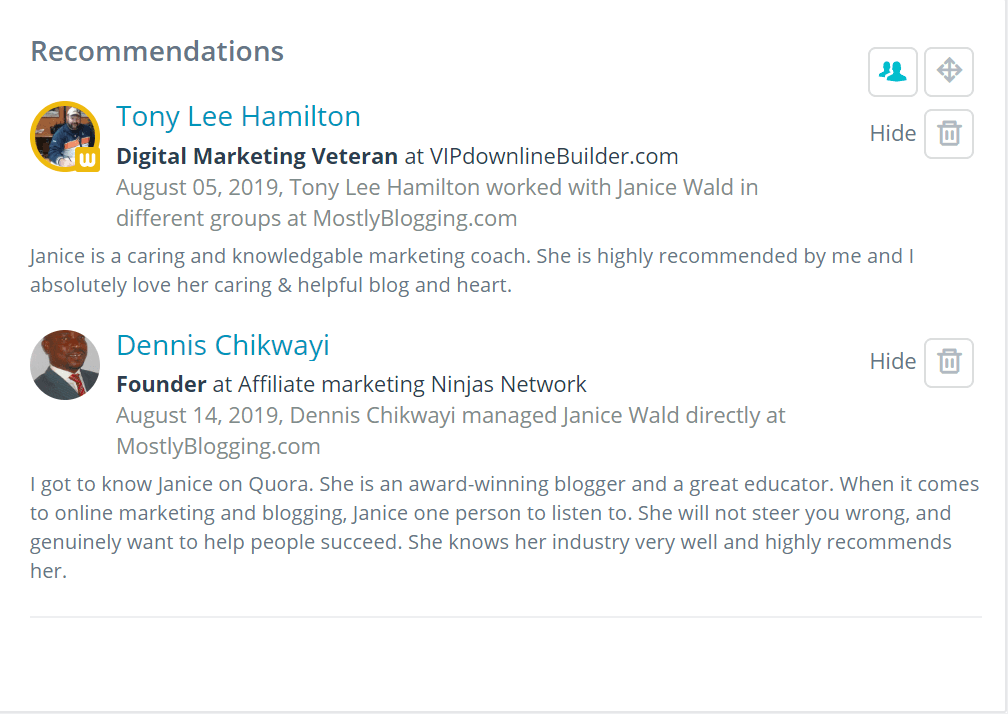 WebTalk saves you time as you organize your personal, professional, and business life all in one place. Also, you can control how much information your various contacts see. This relaxed atmosphere is in contrast to Facebook that often feels like you're walking a tight rope. Like LinkedIn, you can have a showcase on WebTalk and even a resume. Like MeWe, as social media site comparable to Facebook, your privacy is always secure as you decide who sees your data and when. The Founder of WebTalk is RJ Garbowicz.
The company is stationed in St. Petersburg, Florida.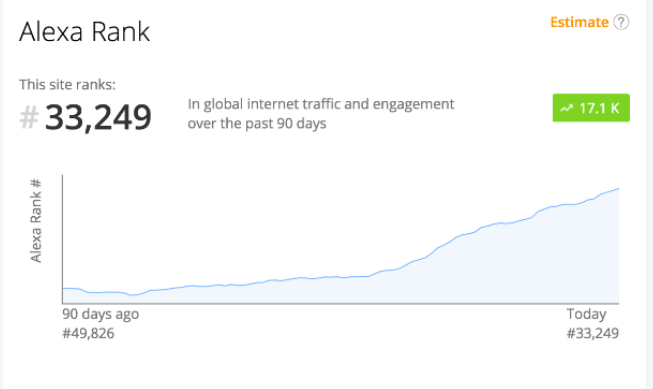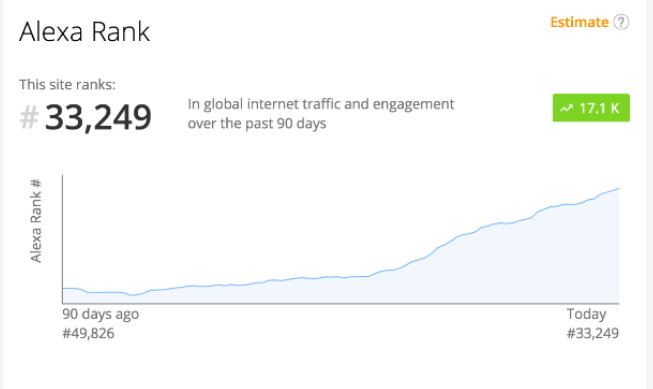 WebTalk has over one million followers and is one of the top 15,000 sites in the United States and 33,000 in the world.
WebTalk is mostly called an alternative to using Facebook for targeted leads. It's easier to get free targeted leads with WebTalk than Facebook. You can also compare WebTalk to a combination of Facebook and LinkedIn.
WebTalk was recently featured on ABC News.
WebTalk's Mission
Did you know WebTalk's mission is to help the world? WebTalk gives 10% of the money accrued to nonprofit charities.
Social responsibility is important to WebTalk and this is their way of meeting their social responsibility outside of their site.
WebTalk plans high-profile PR campaigns to let everyone know about this mission.
How to Get Paid on WebTalk, a Pay Per Lead Affiliate Program
In addition to all the perks mentioned, this site shares advertising revenue with you. How much do they pay? Up to 50% of their revenue can be yours. You get paid for referring people who buy. WebTalk's referral program is called Social CPX.
When you sign up for WebTalk's affiliate program, you get paid when people sign up and they purchase. In addition, you get paid when the people you refer get people to sign up who make purchases. This goes on for 5 levels of referrals.
It gets even better: If someone clicks the WebTalk affiliate link that you place on a social media site, that counts as a referral, and you get paid if they purchase.
WebTalk provides you with a dashboard so you can check your metrics to see how your referrals are doing.


This is your dashboard toolbar.
The icon with the green number indicates you have a payment notification.
WebTalk member John Burbage offers strategies for building up your WebTalk referral network.
You need to set up a Stripe account in order to get paid by WebTalk. The site announced PayPal payments will be coming soon.
How much can you make?
According to John Burbage, one of the WebTalk revenue generation specialists, "You will earn a 10% commission on the revenues generated by the persons and businesses that you refer to WebTalk."
I also interviewed the WebTalk support desk about how to monetize the site:
"Webtalk will share all of its revenue with affiliates that help us grow the network.

How we share revenue:

If you invite someone that buys a Pro upgrade, you get a 10% commission. For example, Member Referral 'X' paid $20 on a monthly upgrade so you get $2, or $200 for the annual membership then you get $20.

If the near future, we will be adding more revenue streams. Next is Ads, then Market place transactions and Job services.

That means that when the Basic (free) users that you invite view ads and Webtalk makes money, we share it with you."
With five tiers of referrals, this can add up. However, there is a cap of 10,000 referrals. The site recommends signing up early before others have a chance to refer people. The site is so new, the Social CPX referral program is still in beta.
Click here to be invited to join WebTalk, to sign up for the affiliate program. You'll find your dashboard so you can track your referral earnings at the SocialCPX.com site. After completing your profile, click Invite Contacts.
Note: Your referral link is different from your profile link.
Important reminder: Before you can start using the site, you need to be invited to join WebTalk.
I'd be happy to invite you. Sign up through my affiliate link: ==> CLICK HERE <==.
Note: You need to complete your entire profile before being allowed to sign up for the affiliate program.
Important: Give careful consideration to your interests when you list them in your profile. I listed "marketing," and WebTalk's AI suggested marketers for me to connect with.
WebTalk provides the HTML code for graphics advertising the site which makes getting referrals easier.
Look:
Since the graphics are animated, they are more eye-catching resulting in more income for you. WebTalk provides an entire gallery of graphics, so you have many choices. WebTalk even offers a social share button for your blog or website. You need to agree to the terms before signing up for WebTalk. They also require you connect with 10 members.
Look: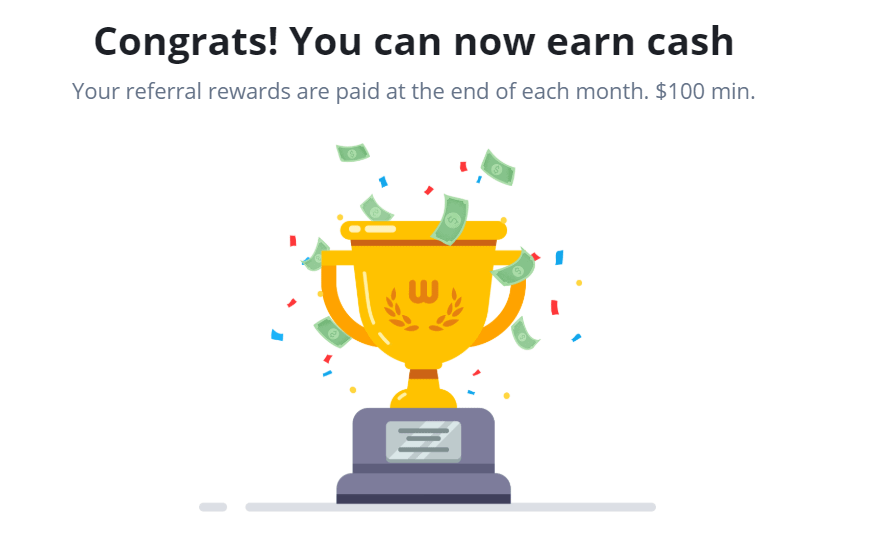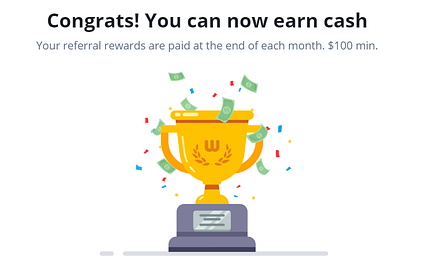 In December 2019, WebTalk started paying in cash.
How to Use WebTalk
To find people in your niche, type your niche into the WebTalk search bar. Network with the members in your niche.
After receiving your invitation to use the site, make an account.
You can sign up with your LinkedIn or Facebook information.
Fill in the information requested and choose a profile picture.
Go to your email and confirm your registration.
Complete your registration then complete your profile.


Clicking the pencil icon will enable you to insert a cover image and fill out your profile.
Invite contacts and make connections at the site before enrolling. 10 people need to connect with you at WebTalk before you can join the affiliate program.
I found signing up for WebTalk's affiliate program a little difficult. I was full of enthusiasm and wanted to start right away.
However, I couldn't sign up until my profile was complete and I couldn't complete my profile until 10 people agreed to connect with me.
Fortunately, you're given an affiliate link and WebTalk even writes your promotion for you. "Follow me on WebTalk."
By the way, blog promotion is available to you without signing up for the affiliate program.
You promote at WebTalk like you would any other social media site.


Notice once you fill in your content promotion and your link, you can attach a document, a photo, or a video. Instead of clicking Post, you click Talk.
If you want to extend your reach, click the hashtags for the other social media sites.
I like to post to Twitter when I post to WebTalk, so I click the Twitter bird.
Look: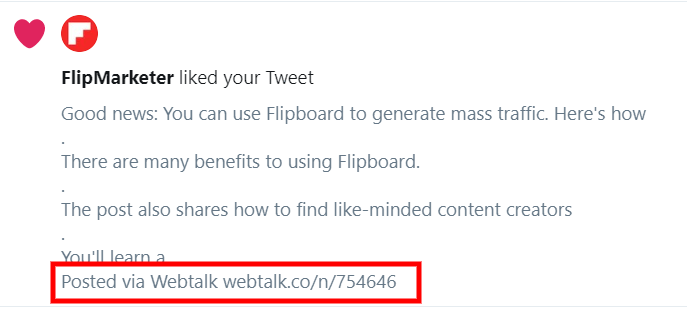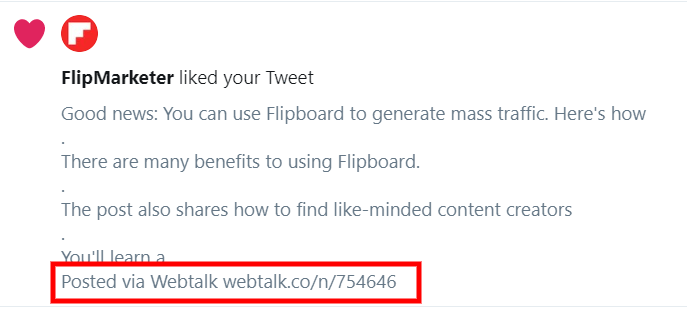 This screenshot was taken from Twitter.
I posted information about Flipboard on WebTalk and clicked the Twitter bird.
When people see my content, my brand is extended. Now people can retweet where my content will get more exposure.
Talk about a time-saving tip! As you can see, posting to WebTalk boosts your ROI for this reason.
You can chat privately as well by clicking Message.


Profile – Complete your profile
News – Get your notifications
Files – Share text documents
Photos and Videos – Share media files
How to Complete Your Profile
In addition to providing the requested information and connecting with 10 WebTalk users, you need a recommendation from another WebTalk user.
A Webtalk member laid out instructions for obtaining the required recommendation:
1. Go to the profile of the user you want to recommend or get a recommendation from.

2. Click on the down arrow on the "Following" button

3. A little popup menu opens. Click on "Edit Contact" there.

4. Another menu opens. Change the switch button next to "Add to Professional Network" from "no" to "yes."

5. Go back to his/her profile

6. Scroll down to the recommendations' area.

7. Ask them to recommend you from there.

8. Enter what kind of relationship you have/had with them, I.e. "I was a client of person x" at company "y".

9. The person will get a notification that you have requested a recommendation from them and they can accept or decline it.

10. The other person should do the steps above as well in order to request a recommendation from you in return.
Is WebTalk a Scam?
I conducted research to try to determine why people are accusing WebTalk of not being legitimate.
This is what I found:
Apparently, WebTalk is not paying its users yet. The reason is the site is still in beta. Therefore, while WebTalk is in testing stages, the site isn't paying.
Do I think WebTalk is legitimate?
Sure! WebTalk won't be in beta forever.
WebTalk Testimonial
When asked which social media site he spends the most time on, Dennis Chikwayi reported he spends the most time on WebTalk.
"I spend most of the time on WebTalk because it is like Facebook, LinkedIn, YouTube, Dropbox, and Instagram all in one. It has this great feature that is able to post to sites like Twitter, Facebook, LinkedIn, and Slack all the same time."
Do you need more information about the WebTalk Pay Per Lead Site?
Just leave a comment below and I will get back to you As Soon As Possible….